Certifications
The quality of Eurojob Services is measurable.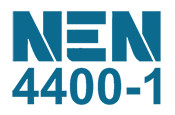 Eurojob Services is a NEN 4400-1 certified employment agency.

The NEN 4400-1 certificate provides protection against fraud and illegality in the temporary employment sector.

With the quality mark of the Labor Standards Foundation we prove, among other things, that the (personnel) administration is in order. Eurojob Services are payroll taxes and / or sales tax on time. That our employees are entitled to work in the Netherlands.

Click here for certificate ID Checker 2014
Click here for our Verzekering Buitenlands Werknemers (VBW)